English:
I hope you are already used to it – every day there is a 3D work by me. Today I made a member of @SteemCleaners in the wild … And you may guess who it is! However, for lifelong Downvotes I can not take responsibility …
Actually, last night I started to capture all the work steps bit by bit in screenshots because I wanted to make a tutorial out of them. At some point, however, it became clear to me: it would be an eternally long contribution.*
Let's do it this way: if you are interested in how I made one or the other part, write me a comment. If there is interest, I will explain and illustrate you what you like to know.
* = This is actually only half the story … Actually, I wanted to make a lion's head … Then I noticed that the lion looks like a monkey … Well … And somehow the other trains of thought were not far apart … you understand …
If you like, here again something to laugh: my naughty lion's head:
Deutsch:
Hoffentlich seid ihr bereits daran gewöhnt – jeden Tag gibt es eine 3D-Arbeit von mir. Heute habe ich ein Mitglied der @SteemCleaners in freier Wildbahn gefertigt… Und ihr dürft raten, wer es ist! Für folglich lebenslange Downvotes kann ich jedoch keine Verantwortung übernehmen…
Eigentlich habe ich letzte Nacht begonnen, alle Arbeitsschritte Stück für Stück in Screenshots festzuhalten, weil ich ein Tutorial daraus machen wollte. Irgendwann ist mir aber klargeworden: es würde ein ewig langer Beitrag werden.*
Lass es uns so machen: wenn dich interessieren würde, wie ich das ein oder andere Teil/Objekt gefertigt habe, schreibe mir einen Kommentar. Wenn denn Interesse besteht, erkläre und bebildere ich dir dann gerne was du wissen magst.
* = Das ist eigentlich nur die halbe Geschichte… Eigentlich wollte ich einen Löwenkopf machen… Dann ist mir aber aufgefallen, dass der Löwe aussieht wie ein Affe… Naja… Und irgendwie lagen die weiteren Gedankengänge nicht weit auseinander… Ihr versteht schon…
Wenn du magst, hier gerne nochmal was zum lachen: mein versauter Löwenkopf:
---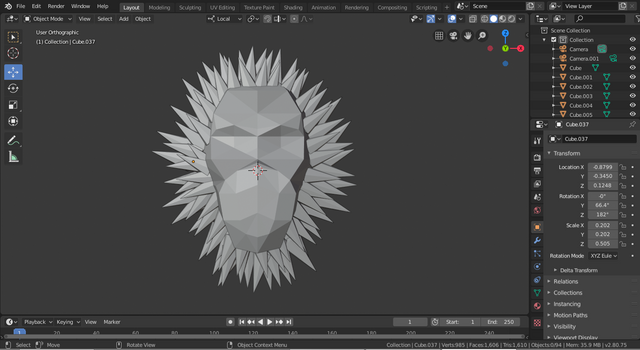 ---
And because the lion's head has failed so, here again the view of something nicer. And? Who is it?
Und weil der Löwenkopf so misslungen ist, hier nochmal der Blick auf etwas schöneres. Und? Wer mag es wohl sein?
---